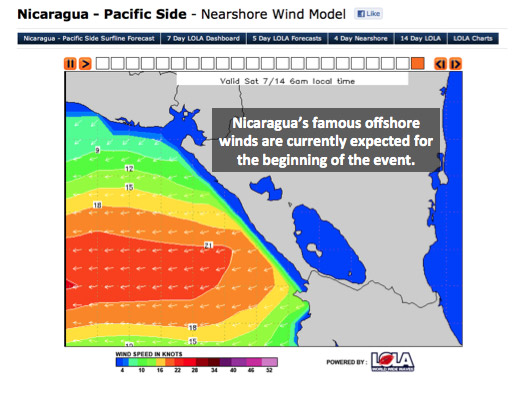 Brief Summary:  Mainly modest but contestable southern hemi energy expected for the beginning of the event. Possible stronger pulse towards the end of the event but too early for specifics. Conditions looking good with offshores at this point.
Forecast Outlook
After a fairly active early July, things have calmed down a bit recently in the South Pacific. As such, no significant swells are currently on the radar for the beginning to middle of the event.
However, we have been watching a handful of storms especially in the Southwest and South Central Pacific over the last several days. These storms have periodically had some high winds aimed at Nicaragua, but due to the very large distance the associated swells must travel, we do not expect this to lead to significant swell for the country. What it will do is produce plenty of 3-5' (waist to head high) surf with some slightly overhead sets mixing in at times over the weekend and into next week. This energy will primarily be spread out between 215-190 degrees though some small S swell (190-180) is also expected to mix in for the end of the weekend and into early next week, thanks to a separate system we are currently watching in the Southeast Pacific.
We are also tracking Hurricanes Daniel and Emilia in the East Pacific. Both of these storms are moving away from us which is unfavorable for sending swell to Central America. As such, we are only expecting a small amount of mid-period W swell from mainly Emilia for the beginning of the contest.
Finally, some of the computer models are pointing towards a more active storm track in the South Pacific later this week and into this weekend. If this pans out, we could see a bit stronger SSW swell towards the end of the event. However, we have very little confidence in this just yet so please stay tuned.
WIND/WEATHER – At this point, we're expecting primarily light to moderate 5-15kt offshore ENE winds and good conditions for Playa Colorado for the beginning of the event. While its hard to rule out a passing shower and thunderstorm this time of year in the tropics, current indications are that rain chances will be minimal with the offshore wind pattern that has been in place. However, weather in the tropics can change quickly this time of the year. More details on the swell, wind, and weather will be provided in our next update.
Next Update: Friday, July 13th
The Nicaragua ISA World Masters Surfing Championship is made possible with the backing of the following sponsors: Nicaragua Tourism Institute, Gray Line, AmericanAirlines, Canal 13, Amnet, Hacienda Iguana, Taca, VOS TV, Municipalidad de Tola, Flor de Caña, INISER; the following cosponsors: Movistar, Dollar, Alamo, Comité Olimpico Nicaragüense, Hilton, Nuevo Diario, Guacalito, Condor, Servipro, Aqua Spa, CDNN canal 23, Nicasurfing; and the following supporters: Surfari Charters, Corona, Paso Pacifico, Renisa, Parmalat, Credomatic, Cruz Roja, Pantaleon, Canatur. The media partners are Pasión Xtrema, SurfersVillage and Surfos. The Official Forecaster for the event is Surfline.
About the International Surfing Association
The International Surfing Association (ISA) is recognized by the International Olympic Committee as the World Governing Authority for Surfing. It was originally founded as the International Surfing Federation in 1964 and has been running the Open Division World Championship since 1964, the World Junior Surfing Championship since 1980, the World Masters Surfing Championship since 2007, the World Bodyboard Championship since 2011, and the Hainan Wanning Riyue Bay International Surfing Festival in China and the World Standup Paddle (SUP) and Paddleboard Championship beginning in 2012. The ISA also sanctions the World Kneeboard Titles and the World Tandem Surfing Championship.
ISA membership includes the surfing National Governing Bodies of 71 countries on five continents. Its headquarters are located in La Jolla, California. It is presided over by Fernando Aguerre (Argentina), first elected President in 1994 in Rio de Janeiro and re-elected seven times since. The ISA´s four Vice-Presidents are Alan Atkins (AUS), Karín Sierralta (PER), Debbie Beacham (USA) and Layne Beachley (AUS).
More on
www.isasurf.org
About Gray Line Tours Nicaragua
Gray Line Tours is a leading tour operator in Nicaragua, and is affiliated with Gray Line Worldwide, which provides tourism services around the world. The company offers complete services in accommodation, transportation, tours, as well as the organization of congress and incentive travels (DMC). It offers quality and professional services, as well as personalized attention to its clients 24 hours a day.
Gray Line offers competitive rates and a wide range of products from nature and cultural packages to surfing and adventure programs. International surfing competitions in Nicaragua have been possible since 2010 thanks to Gray Line Nicaragua efforts.